Lajos Bene disinfects with drones in Tiszapüspök
News Report from TTA Hungary
It is common practice abroad, such as in the United States or China, to disinfect public spaces with the help of drones, but at home this method is still a curiosity. Lajos Bene, a county entrepreneur from Jász-Nagykun-Szolnok, recently offered his own drones and expertise, originally used in agriculture, for disinfection for free – using a very weak but effective chlorine-containing solution for the virus, which does not mean either humans or wildlife danger – to some settlements near Abony, including Tiszapüspök.
"We recently received an offer to disinfect our public areas with the help of an entrepreneur drone if needed. We have already taken the necessary measures, disinfected the railings and handles. We are very happy to have the opportunity, if we need it, we will live with it. We prepared, we procured the disinfectants, about thirty liters. I think it is a good idea that this operation should not be done with a home sprayer – Mayor József Bander reported to our news portal.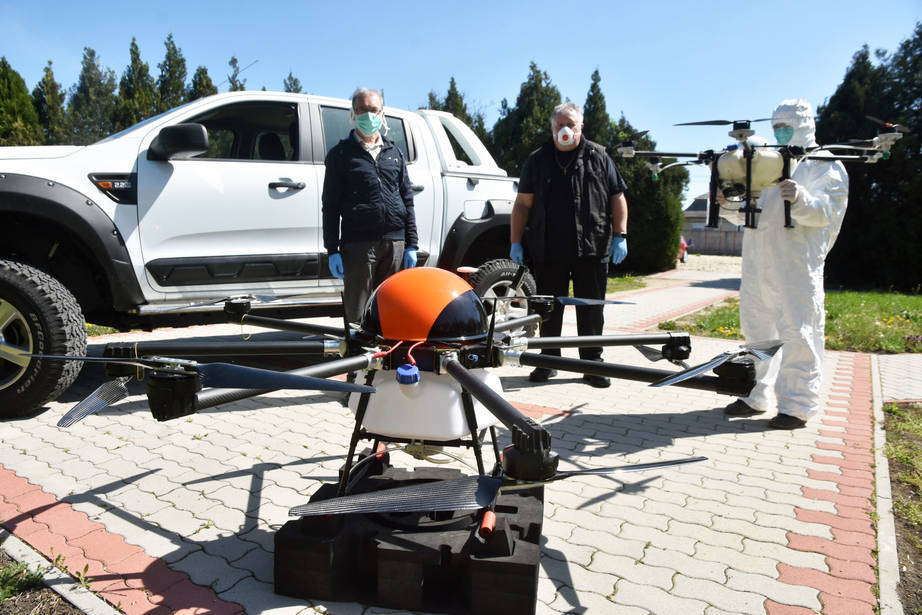 Lajos Bene (in the middle) is happy to help the surrounding settlements if they need it
TTAM6E-1&M8Apro  Photo: János Mészáros
"For this operation, we use a very weak but effective solution against the virus – ten liters of water containing one deci of chlorine – which poses no danger to humans or wildlife," emphasized the entrepreneur, Lajos Bene, who made the offer. The owner of Agro Way Kft. Also said that so-called drone water is also added to the disinfectant, which helps to ensure that the disinfectant reaches its destination.
– For a liter of hippo, we mix a hundred liters of water, which we can spray in ten takeoffs. The disinfectant destroys the virus already in the air and wherever it reaches, the expert explained.
The diluted disinfectant is only dangerous to the virus, which is weak without a host, easy to destroy. Even a small amount of chlorine is suitable for this. And this can also be taken by drones to places that cannot be accessed by larger vehicles or where it is not advisable for a person to enter.
That is why, although he would be happy to help across the country, he can only offer the opportunity to the surrounding municipalities. For example, Szolnok, Abony, Cegléd, Tiszapüspök. It only goes if the municipalities ask for it. So far, he has used this technique in Abony and Tiszapüspök, disinfecting the surroundings of his own businesses with the help of a drone.
In summer, they can adopt the Hungarian drone law
Under current EU law, if someone drones in the wrong place, they can be prosecuted three times. The police would combine these with the introduction of an aviation fine. An exception to this is when it endangers the other life and physical integrity of the operator, as it is already a crime.
Furthermore, it is not possible to fly drones in a state of consciousness. The aviation fine can be up to one hundred thousand forints, and it is planned that this would be a fixed amount in the future. The new Hungarian legislation will also include places where droning is prohibited, such as around airports. The new regulations were originally scheduled to take effect in July 2020.
News Link: https://www.szoljon.hu/kozelet/helyi-kozelet/a-tiszapuspoki-bene-lajos-dronokkal-fertotlenit-2305749/